In the last post of this six-part series, I discussed the second key tip to rapid value in contract management: think beyond legal for the biggest ROI—all about driving value by partnering with the selling organization. I also talked about M&As, improving contract terms, and how to extract financial value.
Now I'd like to tell you about my third key tip to find quick wins in your organization's contract management:
Impact → User → Use Case → Data
Once you've got buy-in for your contract management program—many people we work with have the same overwhelming problem: they think they need hundreds of data points from every contract. Let's flip that on its head and start with the partnerships we built with selling teams during tip number two:
Impact: What's the desired impact? First, we need to provide value.
User: Who will benefit from the value? In other words, who needs to find information from contracts quickly?
Use case: How do they get what they need from contracts today? Look closely at how people do this on a day-to-day basis.
Data: Identify what data is really needed. For example, renewal dates, products purchased, or price uplifts. Focusing on the impact, user, use case first, helps to avoid the 972 pieces of data problem. But even more importantly, it tells us what data isn't required.
Case Study: sales productivity, renewal awareness, and automated visibility
We often see more substantial opportunities to obtain roadmap funding on the revenue side of the house. So, in this case, we're talking about a telecom company with thousands of salespeople. Imagine multiplying any number by 4,000, and the ROI is already significant.
The Challenges
Like many organizations, they had multiple legacy repositories in place. Sales reps were spending a lot of time hunting through contracts, pinging Legal, or worse, providing answers to customers they thought were right. Accounts were switching from salesperson to salesperson all the time and reps were struggling to know when there were key renewals in any programmatic or predictable way.
So we decided to focus on improving sales productivity and renewal awareness. We spent time figuring out the sales reps and what was truly needed to solve their problems. Partnering and understanding is the key to driving value to the broader business.
We organized conversations and asked sales leaders, "What are you trying to do? How do you do find what you need?" We quickly figured out everything needed to map to the right CRM account.
One salesperson asked, "how do I see where there are non-standard terms?" We also picked out the top terms and questions that customers often asked and prioritized those.
The Solution
What did the solution look like? First, their selling team and account managers needed all the contracts mapped to the correct CRM account with accurate renewal dates. That was for 300,000+ contracts.
Because of the multiple repositories across the organization—they had duplicates of contracts and missing amendments. So we went through an exercise of tracking everything down and organizing the contracts by family.
Here is a similar view of how that looked: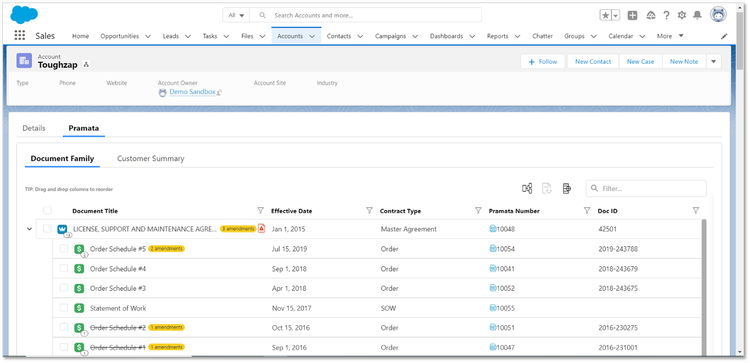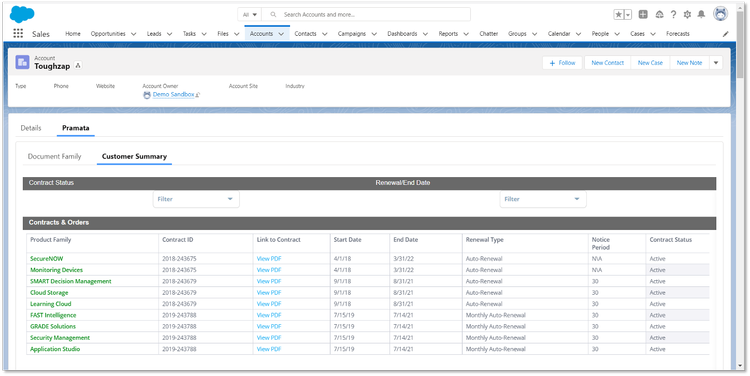 This step was essential for calculating renewal dates. While that may seem simple, it can be quite complicated when you have amended terms. And knowing what is currently in effect and keeping it up-to-date in CRM was essential for success.
Whether you use this example or focus on another impact area, try to sit down with the people who need contract insights or access to do their work. And understand what they need to do with it. I think you'll find useful insights and details. And again, don't just collect requirements or capabilities.
"If your revenue department is always coming to legal for information about contracts, and you can now get that information to them directly. They're winning because they have the information quicker than they ever have. And you're winning because you're driving that for them." – Scott Curtis, Deloitte
I hope tip #3 is useful as you think through your contract management challenges. In my next post, we'll explore our fourth tip: Leverage execs to set strategic focus. If you'd like to learn about our tips to fast value now, take a look at this webinar, Quick Wins in Contract Management.