Work with speed, precision and transparency ​​
It's time to simplify the complicated. Finally, an easy-to-use contract workflow solution legal and sales teams really want. Legal teams can effortlessly view metrics and run reports across the entire contract lifecycle. Automating requests and getting visibility across contract cycles has never been so simple. 
Get requests out of email
Pramata gives you one centralized place for all contracting requests. Users can easily pull up a request form (even in CRM!), attach the right documentation and monitor all contracts in flight from a simple dashboard.
Initiate a request for any contract in a single place
Store, share and track documents in one location 
Easily configure dynamic intake forms to your business needs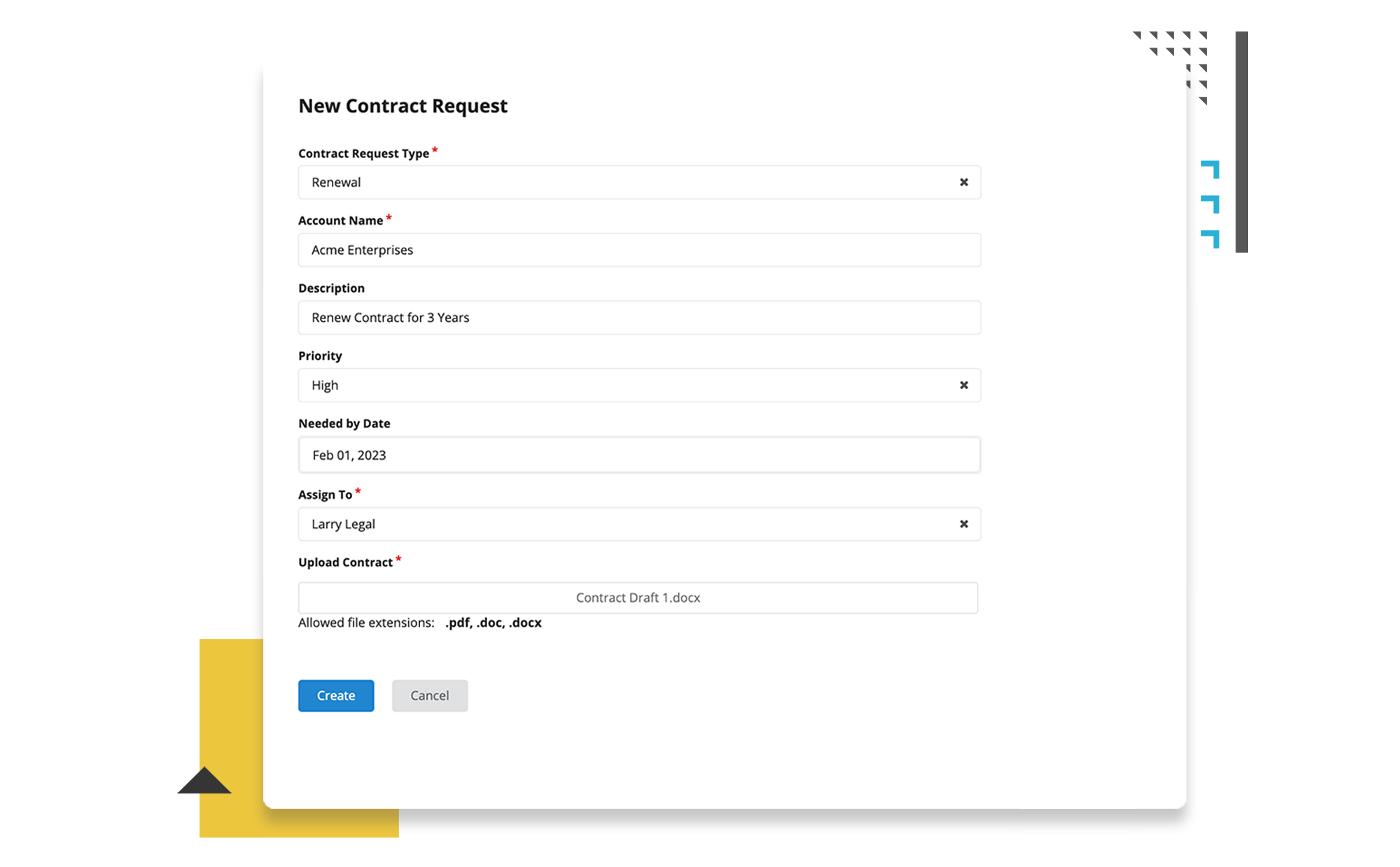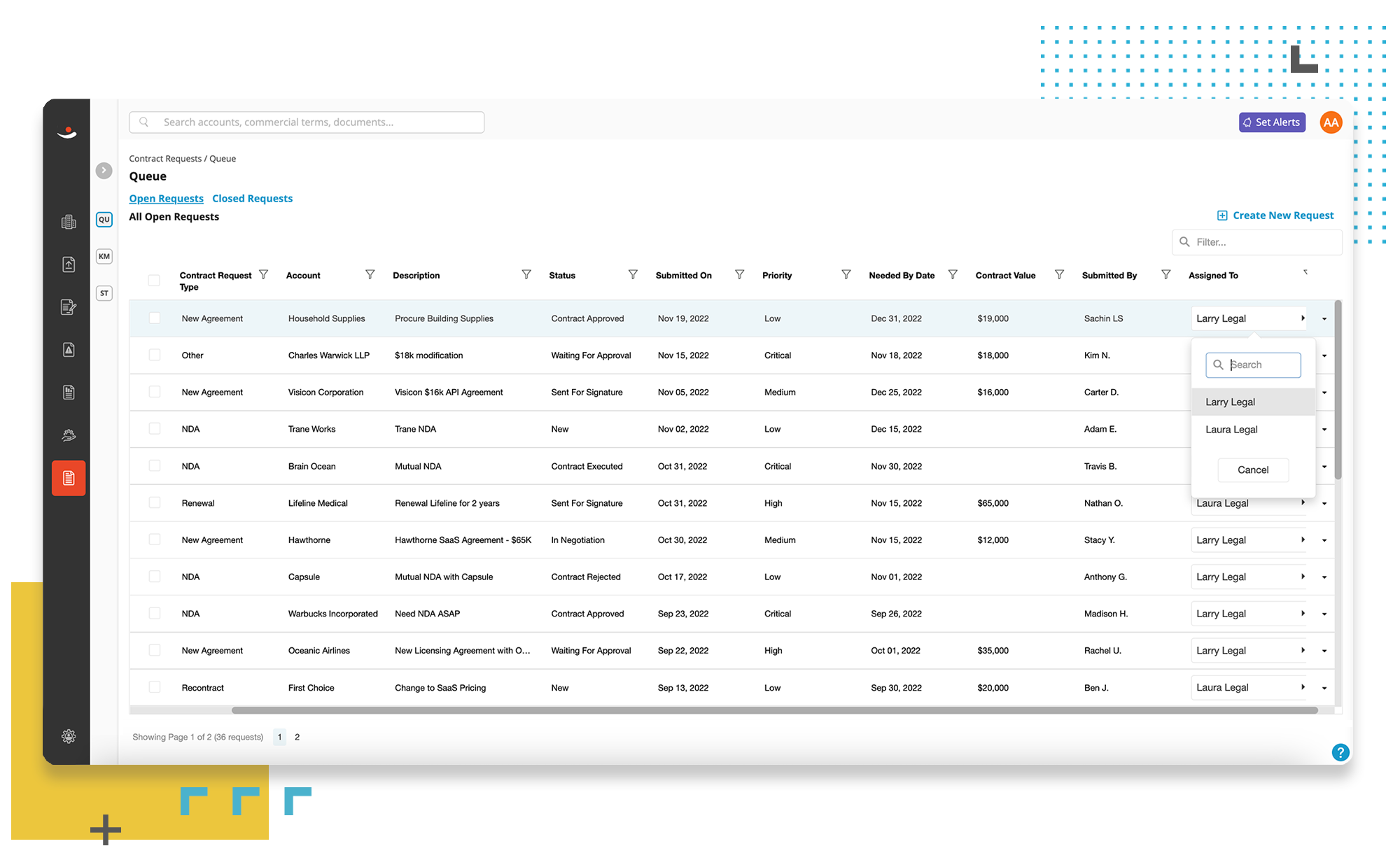 Get visibility across every contract with automated workflows
Pramata's intuitive workflow builder and legal queue allows users to manage all incoming requests and automatically route contracts to the right team member. With this centralized visibility, legal teams can quickly prioritize workloads, reassign tasks and track progress status.
Auto-route requests to the right attorney based on business rules
Easily build and configure simple contract workflows
Re-assign tasks and track progress with a centralized management console
NEGOTIATION & COLLABORATION
Simplify and streamline negotiations–together
Pramata gives teams a centralized place to collaborate together and keep track of every contract. Email notifications alert team members as new comments or changes are made, status is changed, or a task needs to be completed. 
Track versions and changes so everyone is working off of the current state
Capture negotiation history and internal collaboration to speed up the process 
Track contract status and provide transparency across the business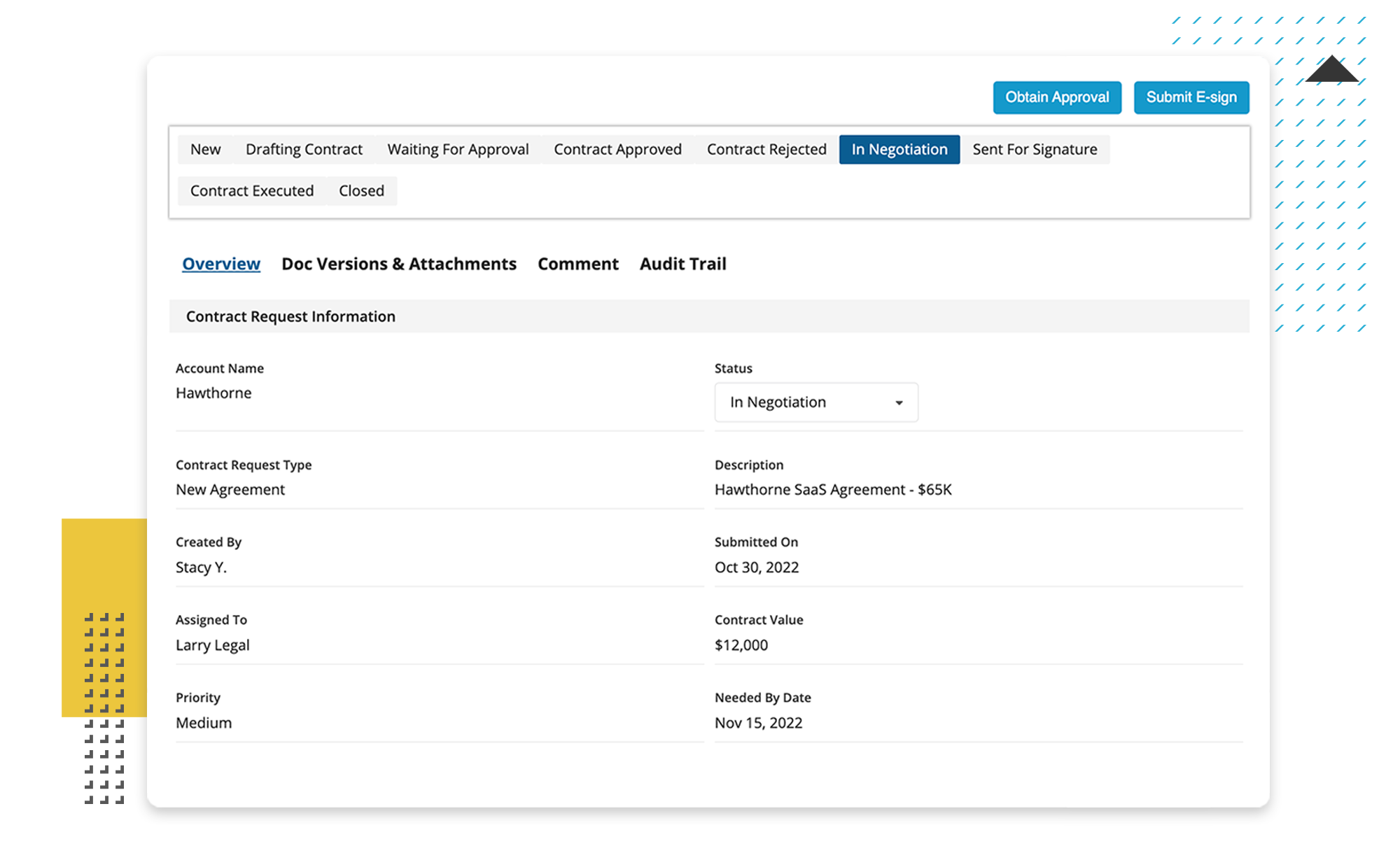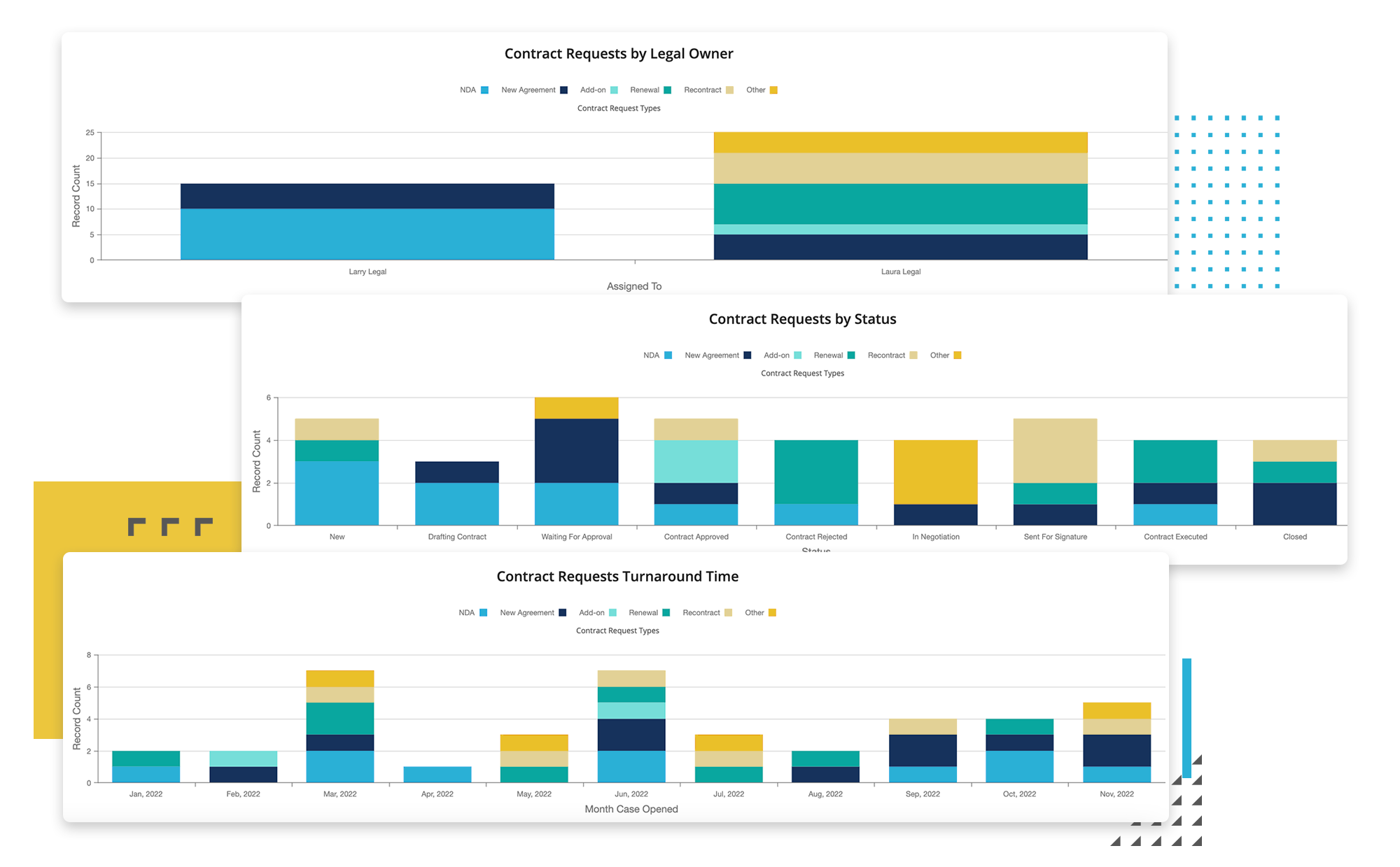 Track performance in your contracting process
With easily configurable dashboards you can monitor the progress of contracts within a workflow, run reports and drill in the details by contract owner, month, and even turnaround time. Allowing you to remedy bottlenecks, distribute workloads evenly and get visibility across the business.
Track turnaround times by contract type, region, and contract team
Assign work based on real time visibility into workloads
Covers 100% of contracts, including third-party paper and non-standard contracts
Business empowerment built directly in Salesforce
Our Salesforce integration leverages already populated opportunity data from Salesforce. So you can accelerate requests and eliminate manual data entry. And the powerful Pramata Platform ensures every contract is organized, digitized and accessible right from Salesforce. 
Collaborate and share status with sales teams right in CRM
Automatically capture key metadata from active contracts and attach to the right account 
Leverage the repository directly in CRM to find all signed agreements and understand current terms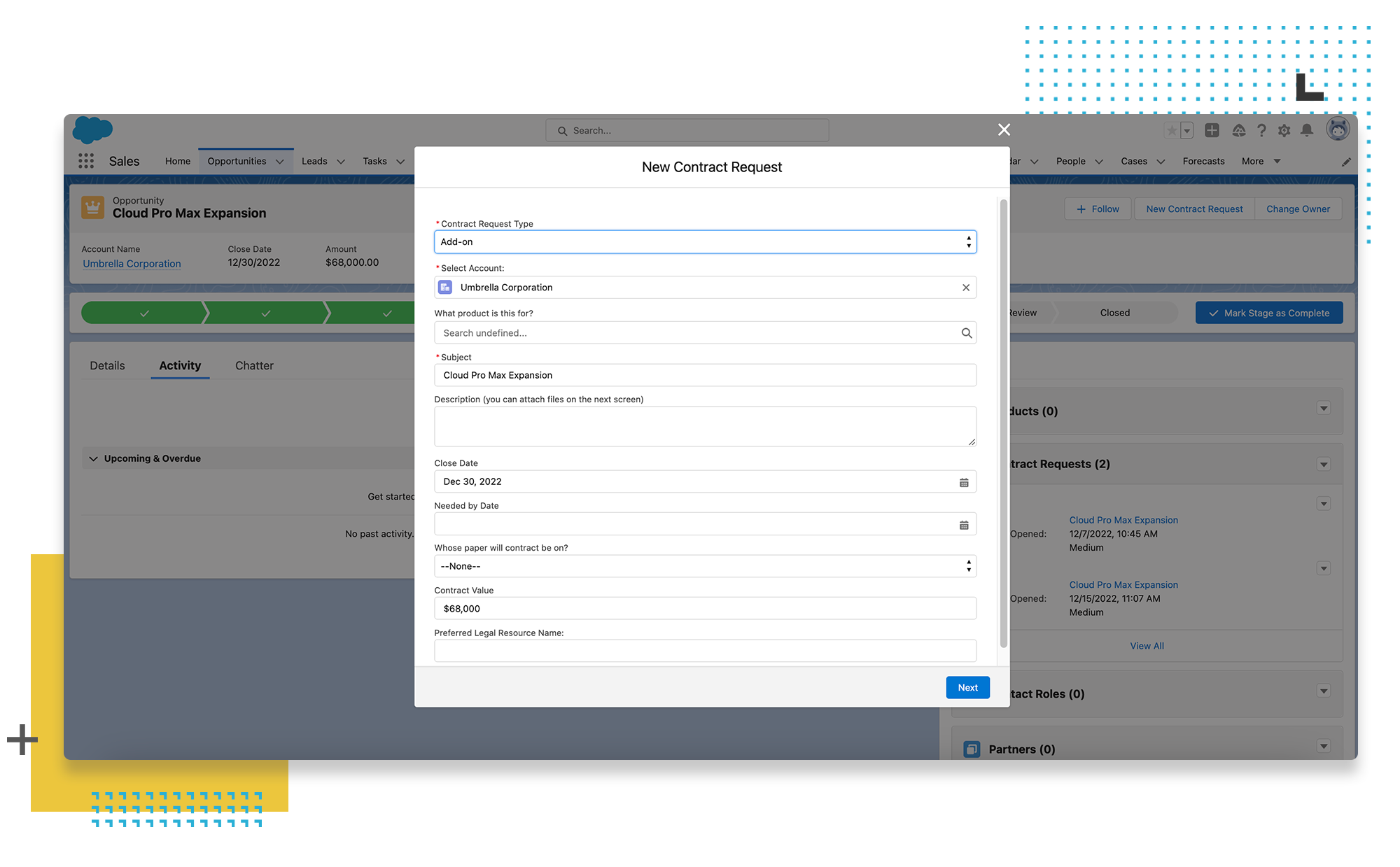 "Pramata has enabled our internal clients to proactively manage contractual relationships, which allows our legal team to focus on more strategic, value-added opportunities."
Brian Lynch
Senior Vice President and General Counsel
Discover a better way to manage your contracts.
 See the radically simple contract management solution that has been trusted by our customers for over 15 years.