A lack of ownership and visibility over the contract management process are costing your company time and money
Did you know that 90% of companies have trouble finding their contracts?
If that number is disconcerting to you, you're not alone. A recent Ernst & Young Survey revealed staggering results about how companies manage contracts. A lack of visibility combined with a global pandemic caused many organizations to rethink how they do business with suppliers and customers.
These changes have long-term impacts on contracting terms and conditions and as a result, many companies are reevaluating their contracting processes.
For example, over 50% of organizations say inefficiencies in their contracting processes have cost them business. This begs the question, if issues like these exist, who owns spearheading change within an organization?
According to EY, determining who owns contract transformation is the critical first step in accelerating change:
Define who is responsible for leading change.
Drive standardization and consistency.
Focus on the right technology challenges.
Give the right work to the right people.
So who is responsible for leading this contract management transformation?
In digital contract management, a wide range of activities are involved—reviewing, signing, storing, searching, and monitoring—to name a few. And it's no secret that many teams across an organization are involved in any number of those steps.

Lack of ownership and alignment between teams often causes contract management efforts to stall or never begin in the first place. This leads to companies continuing to use manual, inefficient contract management processes. As EY states, "…siloed attempts at change, that end up missing input from critical functions, wasting valuable time, squandering budgets and failing to address the root problems."
So what can companies do to overcome this lack of ownership?
According to Rebecca Thorkildsen, EY Law Global Contracts Co-Lead, "One strategy used by leading organizations is to create a centralized function to manage contracts," says Thorkildsen. "That centralized function can be internally or externally managed. Regardless of who manages it, the key is to have a single accountable function that operates under consistent processes, measured and monitored through the tools and KPIs they bring to enable the process."
At Pramata, our goal has always been to make it easy for companies to manage their contracts. We offer the world's first fully managed contract repository—a revolutionary combination of AI-powered technology, an expert digitization team, and a repository with analytics—we call it Repository-as-a-Service (RaaS). 
We are strategically built for all departments that need self-service access to contracts: legal and contracting, sales operations, finance, and even customer success teams. Our unique approach removes the burden of complicated implementations, workflows, data entry, and deciding who will own and manage the repository. That's the beauty of RaaS.
How do you drive contract standardization and consistency?
We've continually seen organizations believe their only options to improve contract management efforts are with tools like CLM, which often require teams to use and set up complex pre-signature functionality with the promise of a reliable contract repository.
Do teams need "over-engineered" pre-signature systems? According to EY, "99% of organizations report they already have some defined processes for preparing, reviewing, and approving contracts. But 49% say they lack a defined process for storing contracts after execution and only 22% say they systematically track contractual obligations."
This could explain why EY reports a "key barrier to transformation reported by 58% of organizations is change management and the challenge of shifting employees' ways of working."
As the saying goes, "Why fix what isn't broken?"
Over the course of 15+ years, we've seen companies struggle with the same fundamental contract management challenge—a complete and central place to locate all their contracts quickly and accurately. Solving this critical challenge ensures all signed contracts are at the fingertips of everyone in the organization who has to service, support, execute and manage them.
Why are companies struggling to focus on the right contract technology challenges?
EY revealed this staggering stat, "92% of organizations are transforming the way contracting is handled, and 60% are implementing sweeping transformational changes, yet 99% of organizations don't have the data and technology needed to improve their contracting process."
This begs the question, "What challenge is most important and what is the right technology to fix it?" According to the 2021 EY CEO Imperative Study, "61% of CEOs want a more data-driven approach to risk management, in which digital platforms play a critical role in centralizing and streamlining the creation, storage, retrieval and analysis of contracts."
It's critical to align contract transformation with the broader goals of the business. Yet, EY reveals that despite investment in at least one or more technologies to aid in the contract management process, most companies tend to gravitate towards E-signature or similar tools that aid in the signing process (84%) and those tools that can extract, compare and analyze data from contracts are leveraged far less.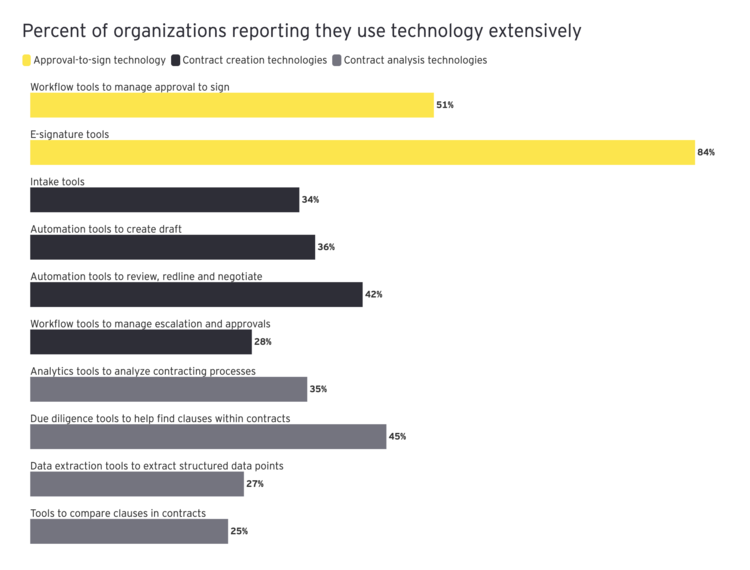 What is keeping contracting teams from using the best technology and processes that will impact contract transformation?
EY found, "This may be due to the fact that 87% of organizations report they face challenges with contracting technology. And 1 in 3 organizations report that selecting the right contracting platform to address the organization's needs is challenging.
The root cause of these operational challenges is a lack of people with the knowledge, experience and time to select and implement the right technology to address the organizations' needs. This has created a significant gap between expectations and value derived from selected solutions."
To quote one of our valued customers, "The whole point of technology should be to remove friction. No one wants technology that makes what they do harder or less efficient. Pramata takes out the friction."
It's our mission at Pramata to not only make it easy to locate a contract in seconds or manage risk across all your contracts, but to remove the challenges of traditional contract management systems—like data entry, complex workflows, and AI-rule configurations.
"With Pramata, I have this robust system across all our company's contracts that requires no effort from me or my team to get these contracts into a digital format I can report on and execute against with 100% confidence." – Foster Sayers, General Counsel
How Pramata Can Help
Regardless of the complexities of your contracts, Pramata's Repository as a Service (RaaS) can be the transformation your contract management team needs. Here is how Pramata can eliminate the pain points associated with each contract priority:
Reduce the cost of contracting. Pramata's RaaS service subscription is less than one-third the total cost of ownership of traditional approaches when you factor in hidden costs. With 53% of CEOs expecting to launch a significant cost-reduction effort this year, Pramata's all-inclusive subscription and transparency around cost is a clear differentiator.
Improve risk mitigation and management. Keep your organization in compliance with your contractual obligations to customers by knowing what you've agreed to and where there might be risky terms. Having all contracts centralized, searchable, and tagged key makes legal reviews easier and faster. It also allows you to perform apples-to-apples risk analysis across your company's relationships.
Digitize the business. No more wasting time chasing contracts around. With RaaS, you gain immediate value with a centralized, searchable contract repository in less than 90 days. Did we mention there is no manual data entry involved?
Enable the business and increase growth. Pramata provides a single place to store and find every contract, ensuring business teams have immediate access to the most up-to-date contract data when needed. We also seamlessly integrate with CRM, CPQ and Customer 360 systems. So you're always just one click away from knowing what each customer owns, the current pricing, and the associated terms at the time of an upsell or in preparing for renewal negotiations.
Are you interested in learning more about RaaS and how it can transform contracting for your business? Get a custom demo today.